7/22/22 10:00 AM
-
Lesezeit
A difficult year for bonds
More Is Always Better
For the bond markets, 2022 is an "annus horribilis" - it is understandable that investors are not amused. We have not seen a price drop like this for 3 decades. However, higher bond yields are better for us in the long run, at least for bond investors.
Throw in the towel?
Not at all! Of course, rising interest rates and bond yields mean falling prices. There is no way to shake this mathematical relationship. Imagine you buy a 5-year bond with a 1 % coupon at 100. Suddenly, yields on 5-year paper rise to 2 %. How will the price react? It will fall.
It will have to fall to around 95% to reflect the higher yield level and deliver an additional 1 % per year to potential buyers. Those who already hold the bond, suffer a price drop from 100 % to 95 %. However, even then, an annual yield of 2 % is tempting until redemption at 100 %. The prospects for the future have therefore improved significantly.
At the beginning of the year, the Gutmann bond strategy had a duration of 3.4 years. This refers to the period after which investors get their money back. That is not a long commitment. Of course, not all bonds redeem in one day. The portfolio is broadly diversified, continuously maturing and renewing its positions. At each redemption, our bond team is challenged to come up with new investments. Focused with the aim of being positioned for the long term with the greatest possible opportunities.
Active instead of a passenger
This active management is definitely superior to a buy-and-hold strategy. For example, one buys a 5-year bond and waits until it is redeemed at maturity in 2027. Investors thus become passive passengers of their own investments. In 2024, the bond has only 3 years left to maturity. Perhaps it would then be better to hold much longer maturities in the portfolio.
In recent weeks, it has been possible to buy 5-year corporate bonds from solid issuers at a yield of 3 % per year. Solid is defined as investment grade - i.e. with a rating of BBB or higher.

Excursus: The rating of the agencies
Rating agencies use a rating scale to classify the creditworthiness of companies and countries. They thus decide on their financing conditions, because investors all over the world are guided by them. The best-known rating agencies are Standard & Poor's, Moody's and Fitch.

Here is an example: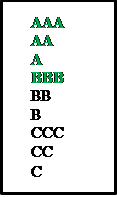 Ratings highlighted in green are investment grade, i.e. debtors with a low probability of default. The rest are called high-yield bonds. AAA or triple-A is the best rating - only a few companies can still boast of this. In the USA, only Microsoft and Johnson & Johnson are in this category. Among countries, there are a few more, including our neighbors Germany and Switzerland. Austria is only just behind with AA+.
We often hear the counter argument from customers, "Inflation is at 7 %, 3 % over 5 years is not enough for me."
However, the market does not reflect the current inflation figures, but the future. Over the next 5 years, annual inflation is assumed 2.5 %. These are not survey figures, but an expectation traded in the market. If this probability actually occurs, positive real returns are possible again. This means that your money will increase more, even when adjusted for inflation.
No one can predict the development of the next few years. Yet, one thing is certain: The Gutmann Investment team always calibrates your portfolio based on the best opportunities. Always with a long-term view of the future.

Disclaimer:
This is a marketing communication. Investments in financial instruments are exposed to market risks. Past performance or forecasts are not reliable indicators of future results. Tax treatment depends on each client's personal circumstances and may change in the future. Bank Gutmann AG hereby explicitly points out that this document is intended solely for personal use and for information only. Publishing, copying or transfer shall not be permitted without the consent of Bank Gutmann AG. The contents of this document have not been designed to meet the specific requirements of individual investors (desired return, tax situation, risk tolerance, etc.) but are of a general nature and reflect the current knowledge of the persons responsible for compiling the materials at the copy deadline. This document does not constitute an offer to buy or sell or a solicitation of an offer to buy or sell securities. The required data for disclosure in accordance with Section 25 Media Act is available on the following website: https://www.gutmann.at/en/imprint

Do you like this article?
Subscribe to our newsletter and stay up to date.
Send an email with your name and email address to newsletter@gutmann.at