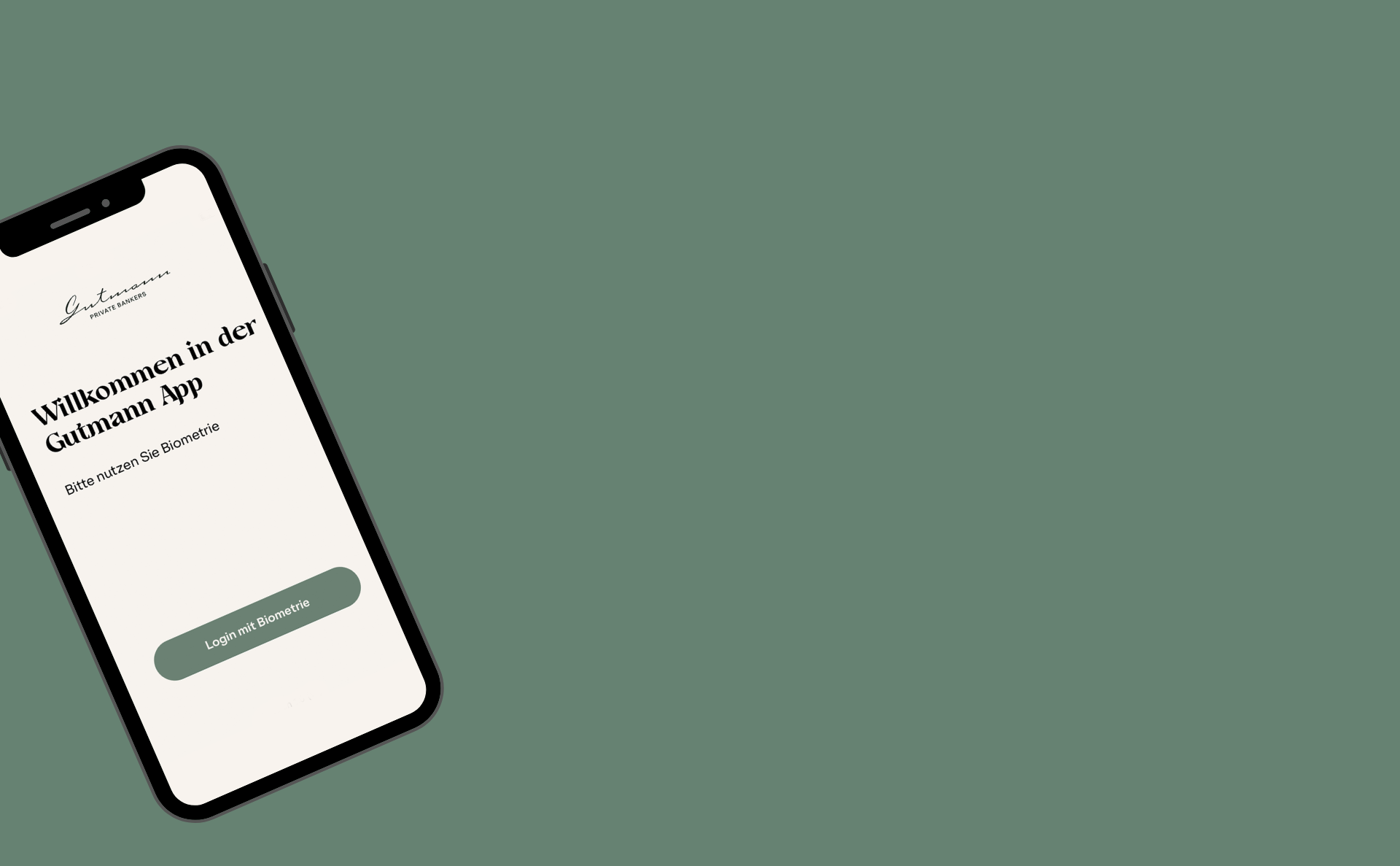 Gutmann App.
Digital
by your side.
Focus on the digital future.
The Gutmann app enables secure and fast authentication. The current status of assets, account and custody account movements, reports, analyses and much more are available to you digitally, quickly and securely with just a few clicks.
Facial Recognition.

Authentication according to your wishes.

The Gutmann App enables a secure and fast authentication via fingerprint, facial recognition or PIN code. The App gives you direct access to Gutmann Online on your smartphone or tablet.

Reporting.

Online reporting available at any time.

With our online reporting, you can review the current status of your assets at Gutmann on your computer, tablet or mobile phone at any time. Furthermore, you can also track your account and custody account movements, reports, analyses as well as other relevant information.

Secure Mail.

Secure communication with Gutmann.

With Gutmann Secure Mail, you can communicate with us directly via Gutmann Online in an encrypted form and thereby, more securely than with ordinary e-mails.
Activate your Gutmann App.
1.

Download the Gutmann App to your tablet or smartphone.

2.

Please have your QR-Code and one-time password ready, which you receive from your Gutmann relationship manager.

3.

Please start the Gutmann App and follow the instructions therein.
Download.
Scan the appropriate QR code with your smartphone or tablet and download the Gutmann app to your desired device.
AppStore

Google Play
FAQ
Do you have questions?
Please contact your account manager or contact us here. We will be happy to provide you with new access data.

As soon as Bank Gutmann sends you a new Secure Mail, you will be informed by means of an ordinary e-mail. Please log-in to Gutmann Online to read your Secure Mail. When you send your message to Bank Gutmann via Gutmann Online, it is automatically encrypted. If you want to send Bank Gutmann an ordinary, non-encrypted e-mail, use the application you normally use for your e-mails. Please note that you cannot forward a Secure Mail to third parties.

Here you will find all information on registration, device management, Secure Inbox and online reporting.